Our Services
Serving Santa Barbara County
Need a place for a large party? Our Mexican restaurant can accommodate parties up to 75. We do not charge extra for large parties. Call La Playa Azul Café in Santa Barbara, CA today at 805-966-2860 to book your large party. Other services that we include are:

* Happy Hour Specials
* Mexican-Style Cooking
* Full Bar
* Wedding Rehearsals
* Wedding Dinners
* Delivery Services: Restaurant Connections
* Party Platters (Available for pickup only.)
About Us
Mexican Restaurant Santa Barbara CA
When you're in the mood for some authentic Mexican food, visit La Playa Azul Café in Santa Barbara. We are your local Mexican restaurant that has been serving up some of the most popular Mexican dishes since 1976.

Join us for dinner or happy hour! La Playa Azul Café offers a full menu filled with delicious Mexican dishes and a full service bar. Our happy hour runs from 3:00 PM to 6:00 PM, Tuesday through Sunday with our house margaritas priced at only $4.00 and appetizers ranging from $4 - $6. At those prices, why wouldn't you be happy! Our Mexican restaurant is well known for our Mexican seafood and other traditional Mexican dishes. Come and dine with us either inside or on our large outdoor patio. Your server will be sure to make your dining experience a most pleasurable one.

Whether you're in the mood for a plate of steaming hot fajitas or an ice cold margarita, visit your neighborhood's finest Mexican restaurant! Call La Playa Azul Café in Santa Barbara, CA today at 805-966-2860 to make a reservation. Reservations or inquiries about reservations are NOT made via email so please give us a call at 805-966-2860.

Products
* Signature Dishes
* Scallops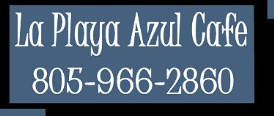 Mexican Restaurant Santa Barbara CA
---
Payment Methods
Master Card, VISA, American Express, Discover, Cash